ON COURSE WITH NATURE ©
SITE MAP

Main web page in English:
A letter to you (revised).
Advayavada Buddhism in a nutshell.
Advayavada Study Plan.

Questions & Answers about Advayavada Buddhism:
The Path reconciles us with the Whole.
Totality is one and Samsara and Nirvana are the same.
Karma, rebirth, and the skandhas.
No cloth apart from the threads.
84,000 ways of liberation.
About the precepts, paramitas, etc.


More than 60 relevant excerpts from well-known books.

God a Symbol (discussion piece).

Madhyamaka Schools in India (Della Santina).

Nagarjuna's MMK chapter 17 (some translations).

Madhyamaka Glossary (under construction).
Welkom.
Het boeddhisme in 't kort.
De vijf boeddhistische leefregels.
Het Advayavada (zelf)studieschema en meditatiestijlen.
Wat is het Advayavada-boeddhisme? (lezing).
Schets van de richtingen in het boeddhisme? (lezing).
Tao, Zen en de erfzonde (lezing).
Rondom de dood.
Alles is goed, alles (uit Boze Geesten).
De Hsin-Hsin-Ming van Seng-ts'an.

Boeddha's preek te Nagara (Edwin Arnold).


Lao-tse's Tao Te Ching (in Dutch):
De Weg van Lao-tse.
Wat bedoelde Lao-tse met Tao?
De Tao Te Tjing van Lao-tse.

Tao is de weg (John Willemsens).

Advayavada Stichting - Advayavada Foundation
El Budismo Advayavada - explicación sucinta.
Tú y yo - poema por John Willemsens.

John Willemsens (Advayavadananda):
Photographs and short profile.
Pinboard and misc. information.

Advayavada Buddhism Twitter account.

Advayavada Buddhism WordPress blog.

Advayavada Foundation on Facebook.

Advayavada Buddhism - on Course with Nature.
---
TO BECOME A TRUE PART OF THE WHOLE.
---


Advayavada Buddhism Information Center
P.O.Box 10502, 1001 EM Amsterdam,
The Netherlands.
phone +31-20-6269602
or email info at advayavada.nl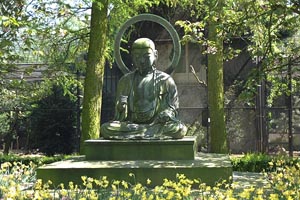 Boeddhabeeld in Artis.
DONATIES DONATIONS

In Nederland: Gelieve uw vrijwillige bijdrage te storten op rekening 81.44.72.079 t.n.v. de Advayavada Stichting, te Amsterdam. Elk bedrag is welkom. Hartelijk dank!

From abroad: Please instruct your bank to transfer your donation to the Advayavada Stichting, account NL83ABNA0814472079 at the ABN-AMRO Bank, Singel 548, 1017 AZ Amsterdam (BIC: ABNANL2A). All amounts welcome. Thank you very much!

(last modified 23 January 2021)